Our Thoughts
Current Market Condition
In a nutshell, new listings are lower, but inventory is higher because the demand is lower, so homes are taking longer than expected to get under contract. Most sellers have plenty of equity and are not forced to sell, such as death, divorce, and debt. Sellers can play the wait-and-see game. Buyers deserve to be picky with the high cost of housing. Keep in mind, a price reduction does not correlate to a depreciating market. There are a lot of price reductions and there will continue to be a lot of price reductions. Let's hope for seller-adjusted price expectations!
Current mindset

Seller Mindset
1. Accept what the market will bear.
This seller is ready, willing, and able to reduce the price to find current market value.
2. Firm on their price and unwilling to reduce to current market value.
This seller will most likely take their home off the market and either continue to occupy it as their primary residence or convert it into an investment property.
3. Decide to hold off on selling.
Due to the current market conditions (high rates), they will choose to list when market conditions are better (lower rates and/or higher prices).
Buyer Mindset
1. Focused on long term.
This disciplined buyer is actively waiting for the right home to fit their needs and would love to buy now with less demand/competition.
2. Waiting to tour more inventory.
The pickings are slim, and most likely, when inventory does increase, so will competition.
3. Waiting for more price reductions.
There will be more coming soon but rates may increase as well offsetting the price reduction.
4. Doing nothing based on affordability and/or fear.
Rates are increasing the cost of shelter and taking some buyers out of the market. In order for these buyers to get back in the market, we need lower rates and/or lower prices.
Our Advice

Buyers
1. Date the rate but marry the price.
You don't need to get a permanent mortgage now. You can get a temporary mortgage in the form of an ARM. There is increasing talk of a pending recession. If that happens, it's likely that the Fed lowers rates and then you can refinance and get a permanent mortgage.
2. Seize the opportunity.
When others are scared, remember to act smart and seize the opportunity - where competition is lower and sellers may be more willing to negotiate.
3. Negotiate price.
Once the Fed signals an end to rate increases, the pent-up demand of buyers will flood the market. If you wait until next spring there will almost certainly be more buyers to compete against. Buying now ensures you have little competition and can negotiate a good price and get the home you want.
Tip: Make offers. You never know a seller's level of motivation until you deliver a purchase agreement and then you will find out how the seller will respond when a real deal is on the table. Start the conversation!
Sellers
It is now more important than ever to be working with an experienced team that knows exactly how to sell a home in a shifted market. There is a lot more to a successful sale than a proper pricing strategy, although that is part of it. A qualified agent/team like us start by analyzing the comparables, assessing the current market, creating a home renovation plan to make your home shine (without over-improving it) and knows how to market.
Things to avoid
1. Not preparing your home for the market (staging, painting, landscaping etc.)
2. Working with an inexperienced agent/team
3. Selling your home off the open market
Tip: Don't share your price expectation with an agent first. Ask the real estate professional for their opinion of value based on comparables and their recommendations for the listing price. Hire the agent who provides the most comprehensive data and preparation plan, not the agent who quotes the highest value of your property. Remember, the seller and the seller's agent do not set the value. The market value is what a ready, willing, and able buyer is willing to pay.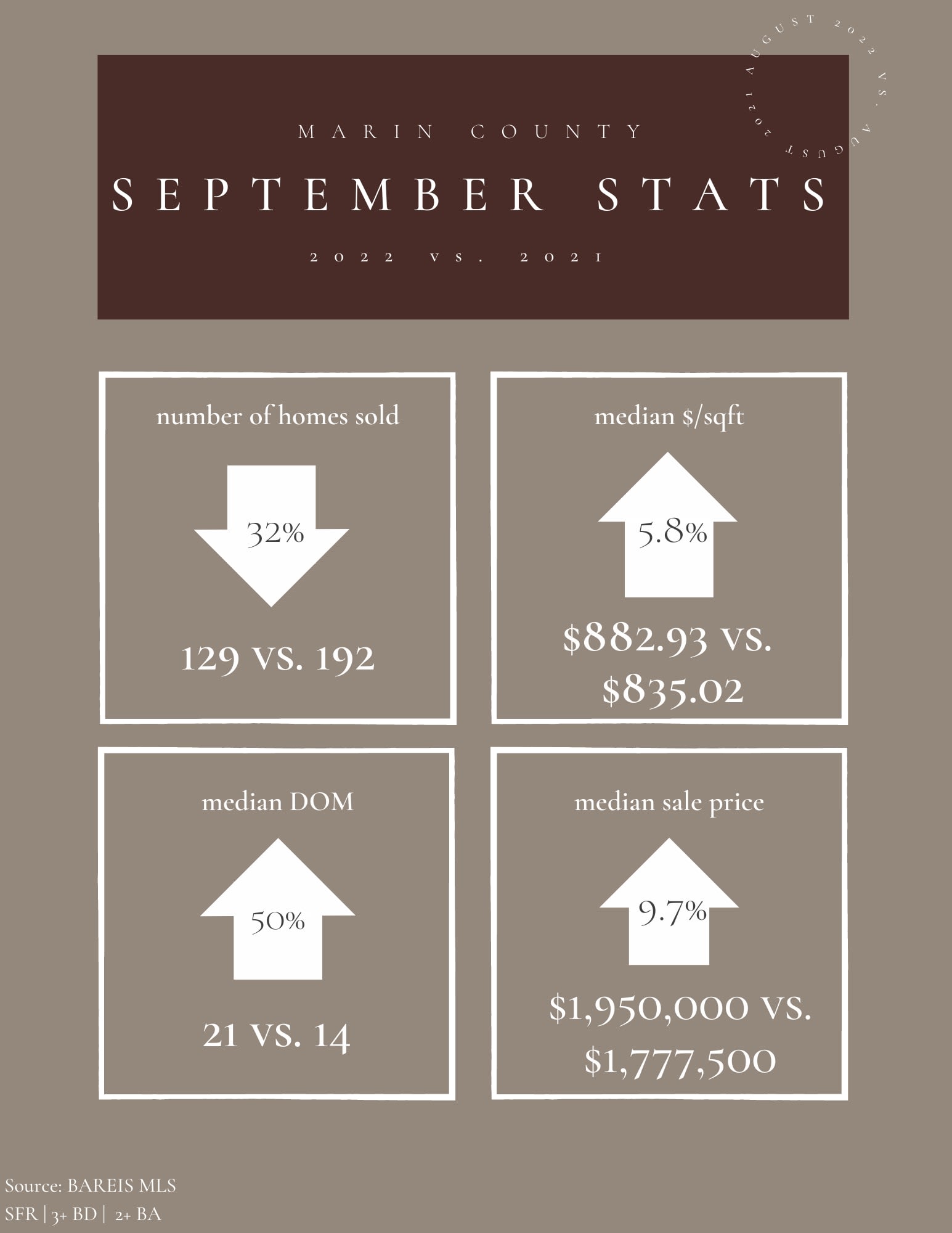 As Marin County Real Estate specialists we are here to provide our knowledge and advice for you to be successful.
Looking outside of Marin? We can still help. Contact us today!