Marelli Brothers Shoe Repairing: Restoring the Sole of San Rafael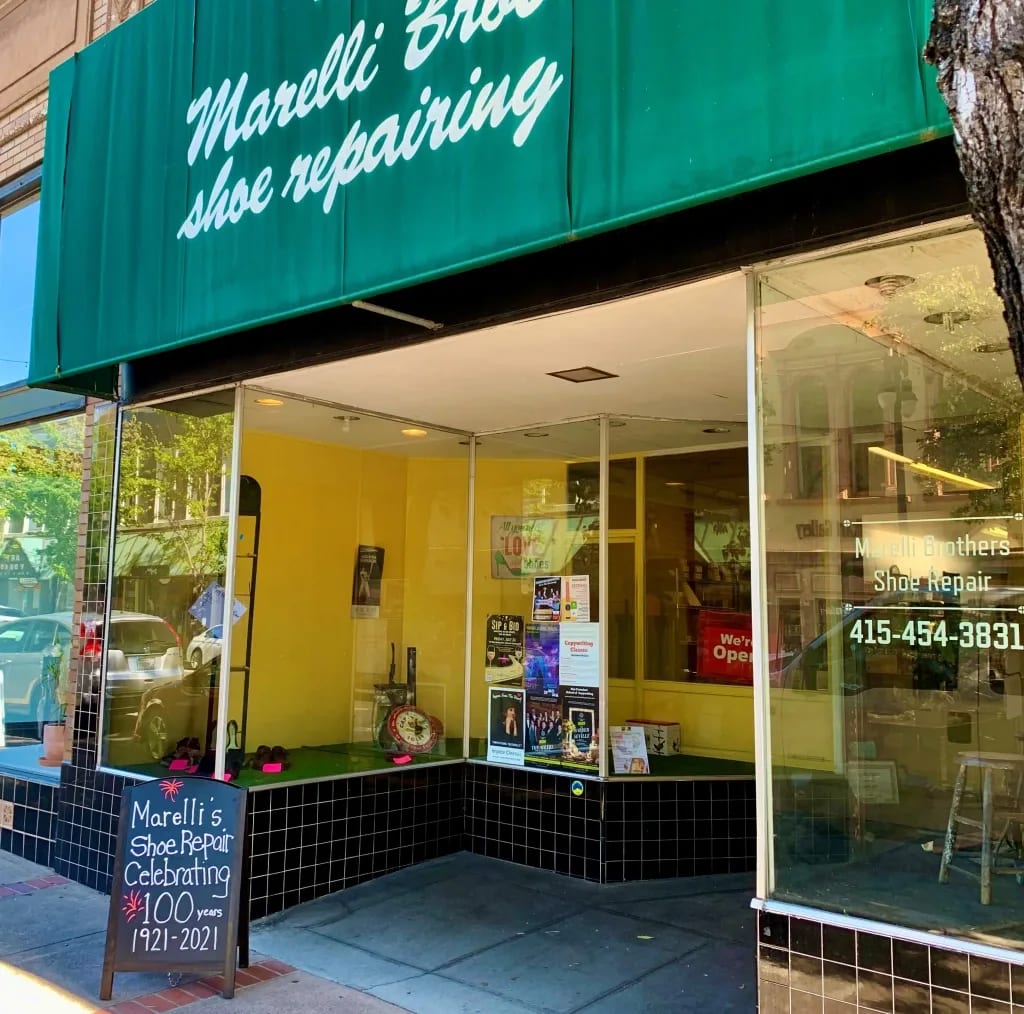 Photo Cred: Marin History Museum
In the bustling downtown of San Rafael, amidst the array of shops and businesses, stands a hidden gem for footwear enthusiasts and aficionados. Marelli Brothers Shoe Repairing, owned and operated by Ron and David Marelli, has become the go-to destination for shoe repair needs in the local community. As the preferred choice of the Faber Real Estate Team, this family-owned business has a story worth sharing.
The Story of Marelli Brothers Shoe Repairing:
Marelli Brothers Shoe Repairing is a fixture in downtown San Rafael. Founded by the Marelli family, the torch has been passed down to Ron and David, who have carried on the legacy with unparalleled craftsmanship and dedication. Born and raised in San Rafael, the brothers have a deep connection to the community and take pride in serving their fellow residents.
Adding to the rich tapestry of Marelli Brothers Shoe Repairing is its remarkable history. The store's legacy stretches back over 100 years, making it a true San Rafael institution. It has been owned and managed by three generations of the Marelli family, a testament to their enduring commitment to craftsmanship and community. This deep-rooted heritage infuses every repair and interaction at Marelli Brothers Shoe Repairing, creating a sense of tradition and trust that sets them apart from other establishments. The brothers, Ron and David, proudly carry forward the family's legacy, ensuring that their customers receive the same exceptional service that has been their hallmark for over a century.
The store, with its vintage charm and warm atmosphere, welcomes visitors with a sense of nostalgia. The walls adorned with photographs and testimonials from satisfied customers tell the tale of the countless shoes that have been given a new lease on life by the skilled hands of the Marelli Brothers.
Services Provided:
Marelli Brothers Shoe Repairing offers a comprehensive range of shoe repair services, ensuring that every shoe that comes through their doors receives the utmost care and attention. Some of their notable services include:
1. Sole and Heel Repairs: Whether it's worn-out soles or damaged heels, the Marelli brothers excel in restoring the foundation of shoes, ensuring they regain their stability and durability.
2. Stitching and Patching: From minor stitching repairs to intricate patchwork, they can revive even the most damaged shoes, breathing new life into cherished pairs.
3. Shoe Cleaning and Polishing: With meticulous attention to detail, Ron and David will bring back the shine to your beloved footwear, making them look as good as new.
4. Leather Conditioning: They offer professional leather conditioning services, which involve cleaning, moisturizing, and protecting leather shoes to maintain their beauty and extend their lifespan.
5. Custom Shoe Modifications: Marelli Brothers Shoe Repairing can customize your shoes to suit your specific needs, from adding extra padding for comfort to adjusting the fit for a perfect match.
As the Faber Real Estate Team, we have entrusted our shoe repair needs to Marelli Brothers Shoe Repairing time and time again. Their exceptional craftsmanship, attention to detail, and commitment to customer satisfaction have won our hearts. Marelli Brothers Shoe Repairing in downtown San Rafael stands as a testament to the value of quality craftsmanship and personalized service. Ron and David Marelli have carved out a niche for themselves in the local community, providing exceptional shoe repair services to their loyal customers.
As real estate experts in the San Rafael community, we invite you to join us in supporting this local business and experience their outstanding services for yourself.
Visit Marelli Brothers Shoe Repairing at 1318 4th Street and discover the difference they can make for your cherished footwear.
Want to discuss your real estate needs? Contact us today.