Compass Is the Top Ranked Brokerage in the Bay Area
Thinking of buying or selling a home in the Bay Area? Here's why you should work with a Compass Agent.

Compass continues to have the largest market share in the Bay Area. Top agents & teams coupled with two services that other brokerages just can't compete with, it's no wonder why they continue to lead the pack!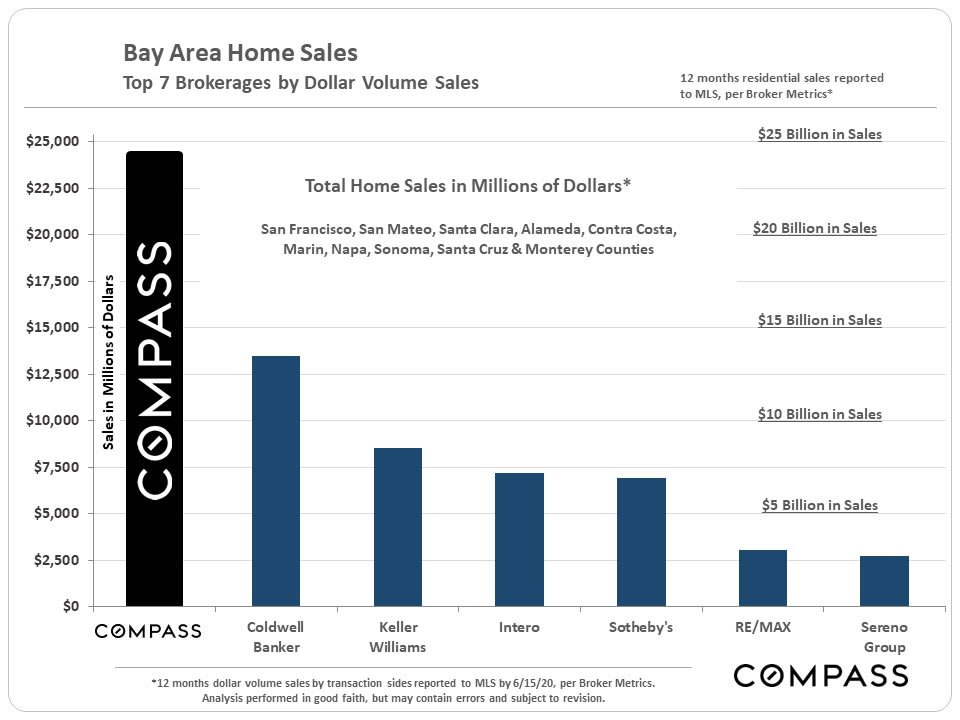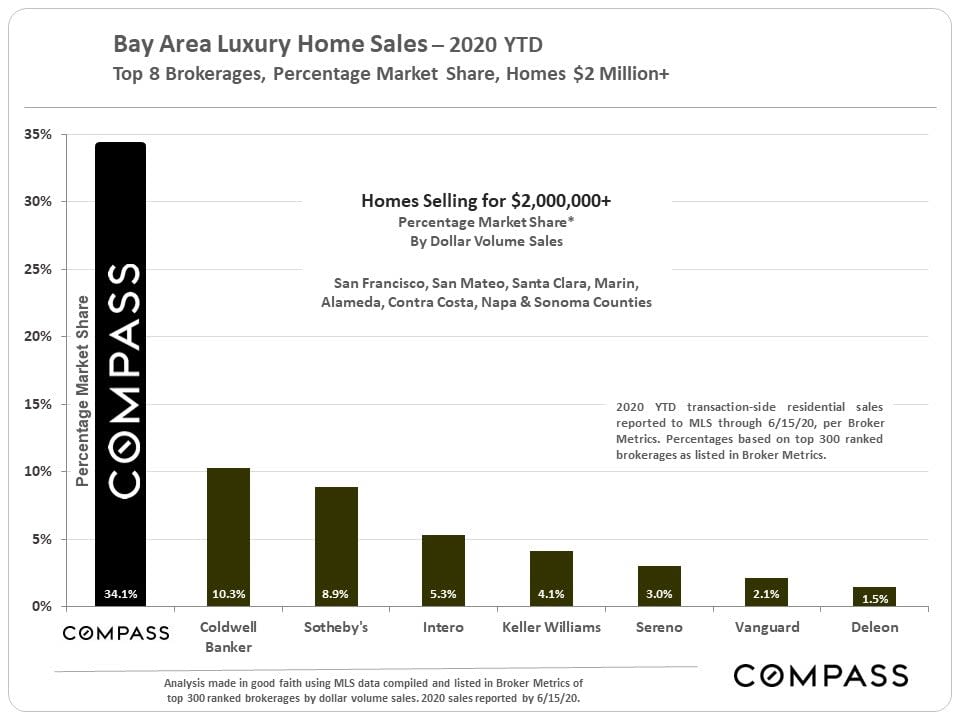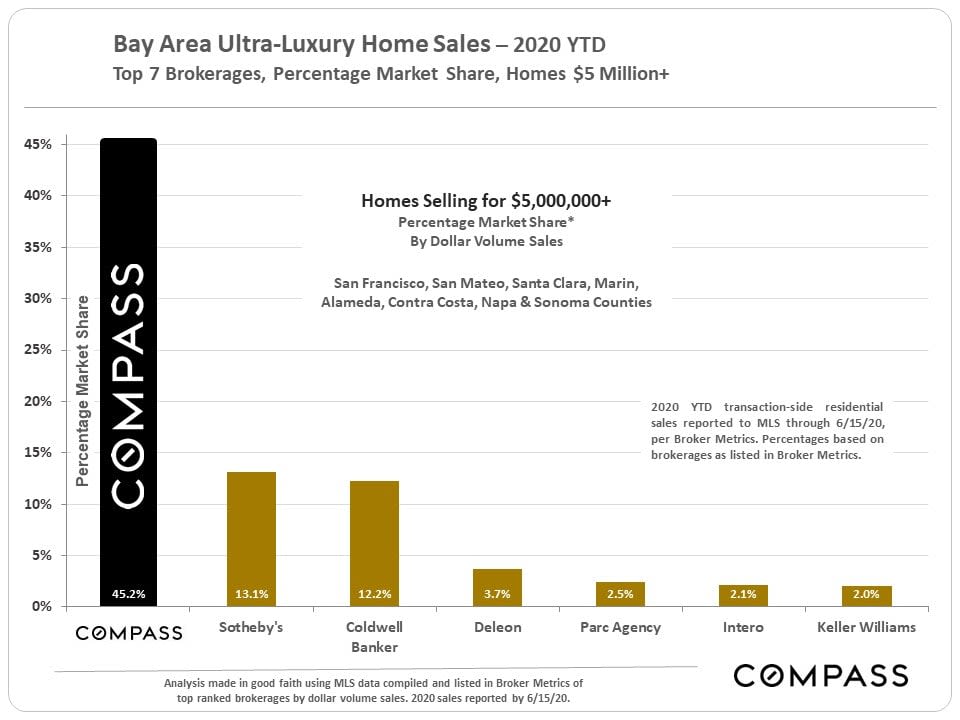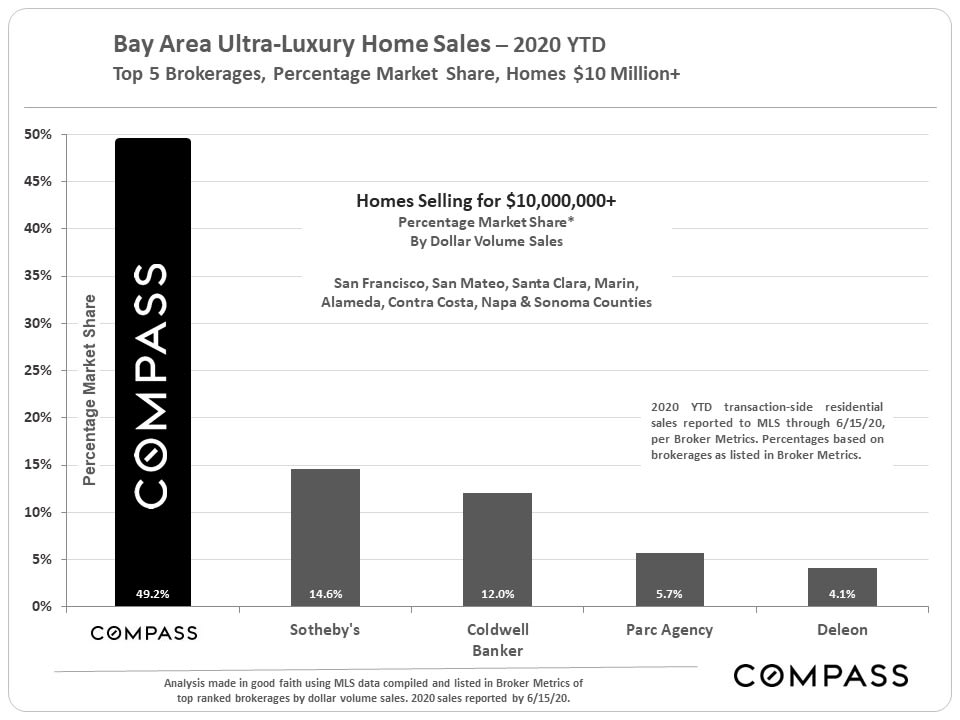 1. Leading Market Share
When it comes to buying and selling, Compass has two programs that no other broker offers. Both programs consist of Compass fronting clients money. What other broker practically gives away money in a loan at no interets or fees? To our knowledge, only Compass. It's no wonder why they continue to lead the pack!
2. Compass Concierge
Selling a home? When you list with a Compass agent you can get fronted the cost of home improvement services with no interest — ever. Compass Concierge is the hassle-free way to sell your home faster and for a higher price with services like staging, flooring, painting, and more.
Learn more about Compass Concierge.
3. Compass Bridge Loan Services
A simple solution to bridge the gap between the home you have and the home you want. Compass Bridge Loan Services gets you access to competitive rates and dedicated support from industry-leading lenders, with the exclusive option to get up to six months of your loan payments fronted when you sell your home with a Compass agent.
Learn more about Compass Bridge Loan Services.
Why work with Faber Real Estate Team at Compass?
In the hyper-competitive Marin County and San Francisco Bay Area, you need to work with a team of professionals that are fully dedicated to your success. Without the right help, this can be an experience that is more overwhelming and costly than it needs to be. Our team is fully committed to your success every step of the way.
When buying with us, there is always someone on our team avaiable to get you into a home or answer your questions. We love to bring you off market properties that are unavaiable to the public market and we provide you up-to-date market insight on properties that interest you while always advising you as if it was our own transaction. Last year alone 10% of homes trades in Marin sold off market. That's 236 properties you wouldn't have known about if you were not working with a top team like us.
Learn more about Buying a Home with Us

.
When selling with us, you work with a listing team that has helped over 150+ sellers sell their homes for top dollar. Our marketing is best in class including professional photgraphy, videography, 3D Matterport scan, website, paid social ads, high end flyers, postcards to neighbors, and always listing on the public market. Our team is equipped with a full-time Project Manager that creates a custom home prep plan that gets you the highest return on your investment for any and all work you complete to get your home ready for market. Most sellers choose to use the Compass Concierge capital funds to prep their home; our Concierge manages and oversees the budget and work to be done.
Learn more about Selling a Home with Us.
Let's chat about your real estate needs! Contact us today.