Skating in the Garden: A Winter Wonderland at Marin Art and Garden Center!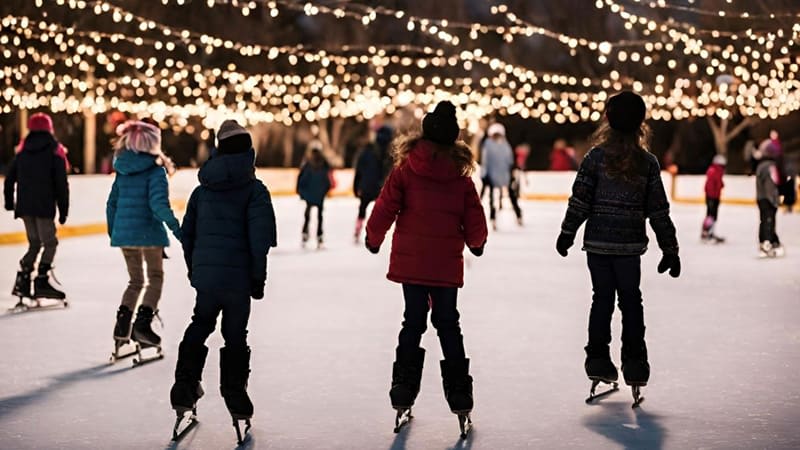 Source: https://marinartandgardencenter.ticketspice.com/winter-wonderland-skating
December 1–December 10
This winter, Marin Art and Garden Center transforms into a festive wonderland with our special event, "Skating in the Garden." It's not just an activity; it's an experience that brings together the joy of the holiday season and the charm of our beautiful garden.
Glide Under the Snowflakes
Imagine lacing up your skates and gliding effortlessly under a sky of twinkling lights and gentle snowfall. Our synthetic ice rink offers a smooth and safe surface for all ages, providing a unique skating experience without the environmental impact of traditional ice.
Family Fun for Everyone
The rink welcomes the entire family, with sessions lasting an hour, including 45 minutes of rink time. With a capacity of 40 people per session, it's a cozy yet spacious setting for skaters and companions alike.
Inclusive and Safe
Inclusivity and safety are at the heart of our event. Every visitor on the rink needs a ticket, which includes skate rental. For parents accompanying their little ones, we provide shoe covers. Plus, our "Skate Buddies" are there to support beginners or anyone needing a bit of extra help, ensuring a fun and secure experience for all.
Exclusive Skating Parties
Want to take your celebration up a notch? Book all 40 tickets for any time slot, and the rink is all yours! Ideal for private gatherings, birthday parties, or corporate events, this exclusive option adds a personal touch to your winter festivities. For private party arrangements outside regular hours, please reach out to us at [email protected] or call 415-455-5260.
Limited Availability
Remember, the magic lasts only from December 1 to December 10, and walk-in slots are extremely limited. Reserve your tickets now here and ensure your spot in this winter paradise!
Skating in the Garden at the Marin Art and Garden Center is more than just skating; it's a journey into a winter fairy tale, right here in Marin County. Don't miss this unique opportunity to create unforgettable memories with your loved ones this holiday season.
Connecting Community and Home
At the Faber Real Estate Team, we believe in the power of community events to enrich our lives, just as we believe in the power of the perfect home to transform them. Join us at the Marin Art and Garden Center for "Skating in the Garden" and experience the joy of community, an essential aspect of what makes a house a home.
Dedicated to unlocking the wonders of Marin County and being The Key To Your Dreams®.
Faber Real Estate Team | Compass
The Key to Your Dreams ®
Ben Faber DRE #01913767
[email protected]
www.faberrealestateteam.com
@faberrealestateteam
🤙🏽415.686.4980