Sailing Under the Full Moon on the Freda B: A Night to Remember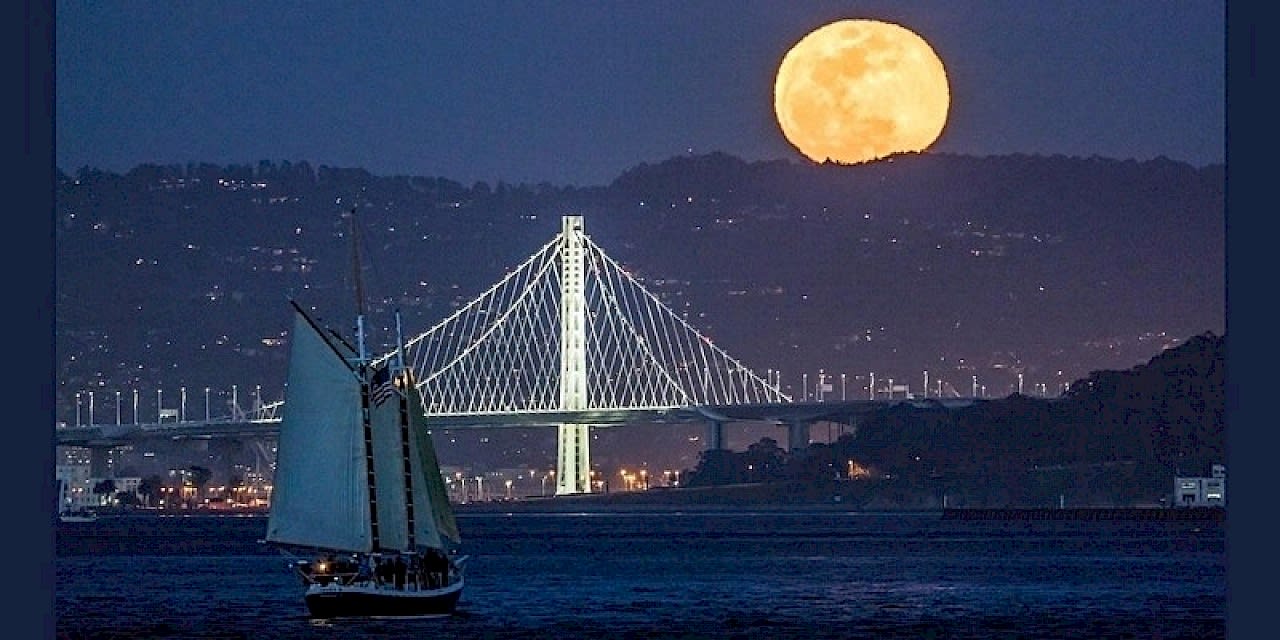 Are you ready for an unforgettable experience that combines the magic of a full moon, the beauty of the San Francisco Bay, and the elegance of a traditional schooner? Look no further than the "Full Moon Sail on Freda B." This enchanting event is set to take place on Tuesday, August 29, 2023, from 5:45 p.m. to 8:30 p.m., promising an evening of pure delight and awe-inspiring sights.
Setting Sail into the Evening
Imagine yourself on board the Schooner Freda B, an 80-foot gaff-rigged coastal schooner that embodies the spirit of traditional sailing. As you step aboard at 5:45 p.m., you'll be greeted by the anticipation of the adventure that lies ahead. The gentle rocking of the ship and the camaraderie of fellow passengers create an atmosphere of excitement.
A Panoramic Feast for the Eyes
As the ship sets sail promptly at 6:00 pm, you'll find yourself surrounded by a panorama that includes some of the most iconic landmarks in the San Francisco Bay Area. The twinkling lights of the cityscape, the majestic spans of the Golden Gate Bridge and Bay Bridge, the rugged beauty of the Marin Headlands, and the intriguing histories of Alcatraz and Angel Islands will all be part of your visual feast.
The Blue Moon Phenomenon
This particular full moon holds a special distinction—it's referred to as a "Blue Moon." The term "Blue Moon" is used when two full moons occur within a single calendar month, making it a relatively rare event. The moon's soft glow will complement the changing colors of the sunset, creating a breathtaking display of nature's artistry.
Nature's Show: Moonrise and Sunset
As the sun gracefully sets at 7:43 p.m., a few moments of twilight will pass before the moon makes its grand appearance. The moonrise is scheduled for 7:24 p.m., casting a silvery glow across the waters and illuminating the surroundings. The juxtaposition of the fading sunlight and the rising moonlight is nothing short of magical.
An Evening to Remember
As the Schooner Freda B begins its return journey at 8:30 pm, you'll carry with you the memories of an evening spent embracing the beauty of the San Francisco Bay, basking in the glow of the full moon, and experiencing the charm of a bygone era of sailing.
Embrace the Marin Lifestyle
If you've been captivated by the allure of the San Francisco Bay Area and are yearning to become a part of the Marin lifestyle, the Faber Real Estate Team is here to guide you. With our local agents who possess an in-depth understanding of Marin County, we're prepared to accompany you every step of the way on your journey toward finding your dream home in this picturesque region.